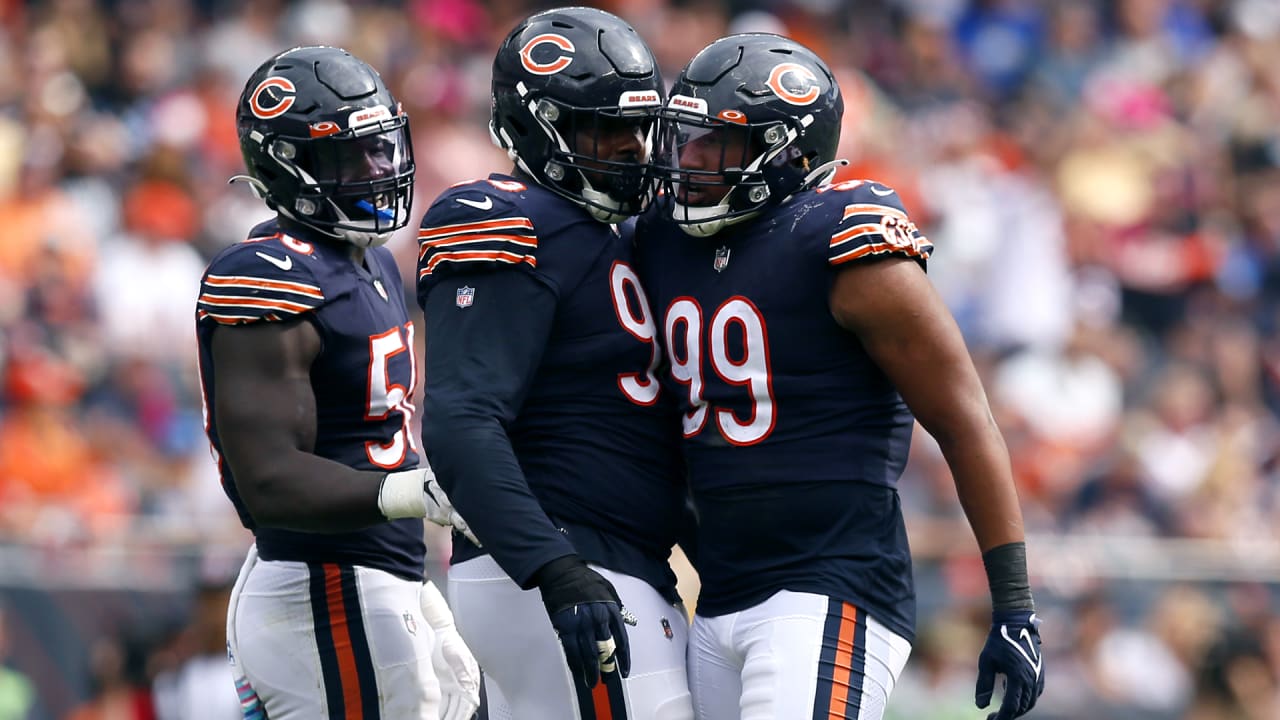 (3) Desai is pleased with a Bears pass rush that leads the NFL with 15 sacks through four games, but he understands there's still work to be done.
Eight different players have recorded at least half a sack. Robert Quinn leads the group with 4.5 sacks, followed by Khalil Mack (4.0), Roquan Smith (2.0), Mario Edwards Jr. (1.5), Bilal Nichols (1.0), Trevis Gipson (1.0), Akiem Hicks (0.5) and Angelo Blackson (0.5).
"The production is what is satisfying, and it's good to see those guys working together," Desai said. "They are collaborating. They are buying into what we are teaching in terms of rushing and coverage. It's a function of both. We believe in that. Those guys are winning their one-on-ones when they get their opportunities, and then we just try to keep moving that hat around and try to share the wealth as much as we can."
According to Desai, the Bears leading the NFL in sacks is not something that's frequently discussed in defensive meetings.
"It's been talked about," Desai told reporters. "A lot of it comes from you guys. You keep putting it out there, which is fine. They've earned it, to celebrate that. But like I told you guys in Week 1 and Week 2, it's only Week 4. We've got a lot of games left and we still want to ascend in how our trajectory is going and the quality of defense that we're playing. So, that's the biggest point of emphasis in meetings is to continue to grow."
(4) Desai has been impressed with what veteran linebacker Alec Ogletree, who signed with the Bears Aug. 4, has brought to the defense.
Ogletree ranks second on the team with 24 tackles this season. In last Sunday's win over the Lions, he recorded a team-leading and career-high 12 tackles while also leaping high to break up Jared Goff's pass intended for D'Andre Swift in the end zone on fourth-and-goal from the 5.
"He's done outstanding," Desai said. "He shows why he's been a successful player in this league. He's a leader. He's got a lot of veteran savviness. He understands the defense. He's a starting-caliber player."
Ogletree signed with the Bears after having appeared in 95 games with 94 starts over eight seasons with the Rams (2013-17), Giants (2018-19) and Jets (2020), tallying 679 tackles, 44 tackles-for-loss, 7.5 sacks, 12 forced fumbles and 12 interceptions, four of which he returned for touchdowns. He made an immediate impact with the Bears this summer, intercepting six passes in his first four practices at Halas Hall.